Parade for Celebration of the Year of the Pig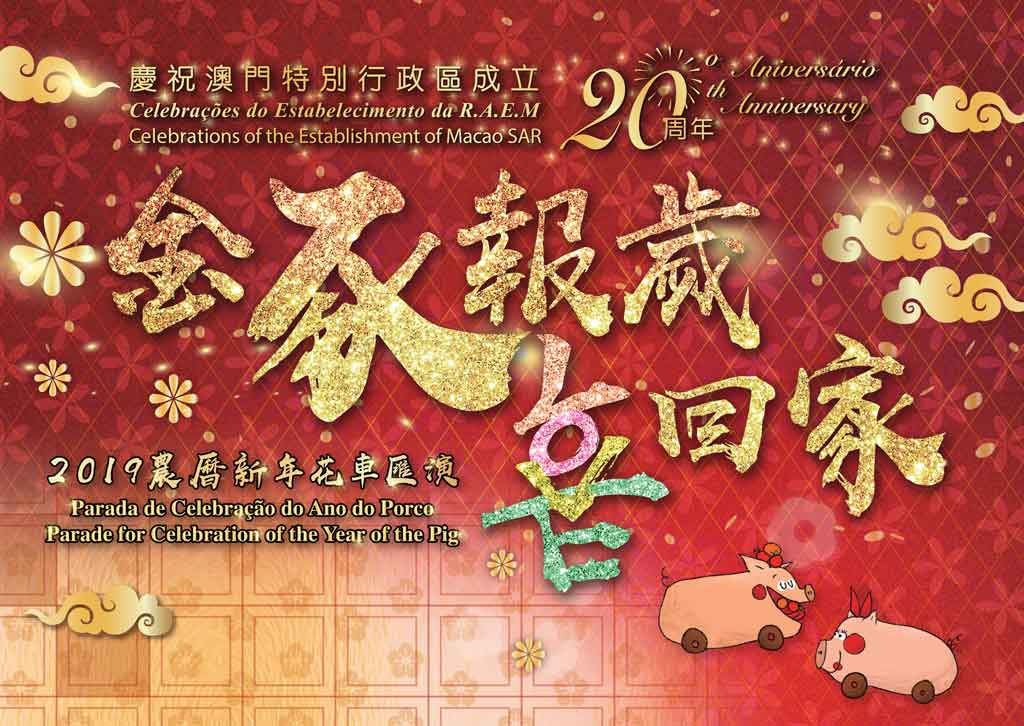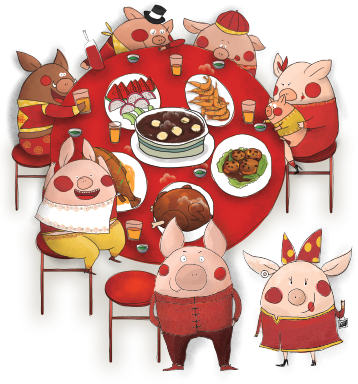 自「一帶一路」的提出,小豬便希望以旅遊與沿路各國交流,品嚐風情各異的美食。遊歷了各國山水、品嚐過各式美食,小豬美食之旅「吃」得不亦樂乎。此時剛好澳門獲評為"創意城市美食之都"! 小豬為此感到自豪無比:香甜酥脆的葡撻、中西合璧的澳門土生菜、手工製作的杏仁餅……想起也垂涏三尺,遂決定起程回家度歲,並邀請沿路結交的好友一同回到澳門,與家人「喜慶團年」。
在家中等候的豬媽媽早已準備了盛滿十八款美食的「盆滿砵滿」,準備招呼小豬和他的好友們!這十八款美食除了蘊含家人對小豬的思念,更是款款都極具美味與創意,寄託著美食福氣,希望分享給澳門的每一個市民,與大家同樂,祝福大家「豬」事大吉! Since the "Belt and Road" initiative was launched, Piggy would like to undertake an exchange trip to the countries along the route, to taste a variety of cuisines. Travelling through the scenery of different countries, tasting a wide variety of food, Piggy ate happily along his food tour and at the same time, Macao was designated as "Creative City of Gastronomy" by UNESCO. Piggy was proud of this and all that came into his mind was sweet and crispy Portuguese egg tarts, the east and west mixture of Macanese food, handmade almond cakes, etc…Piggy decided to return home for this festive season of the year and invited his new friends he met along the route to visit Macao with him, celebrating the Year of the Pig.
Piggy's mother was waiting at home for Piggy's return and had already prepared 18 dishes of delicious food, to greet and treat Piggy and his friends! These 18 Chinese New Year dishes are filled with the family's thoughts on Piggy during his time away from home, specially added with a tasty and creative touch, delivering the blessing messages through the meaning of these dishes, to every resident and visitor, for happiness and good luck in the Year of the Pig! Desde que a iniciativa "Faixa e Rota" foi apresentada, o Porquinho gostaria de realizar uma viajem de intercâmbio pelos diversos países ao longo da Faixa para saborear a variedade de opções gastronómicas. Viajando pelos diferentes cenários dos diversos países, saboreando uma grande variedade gastronómica, o Porquinho saboreou alegremente ao longo da Faixa gastronómica, ao mesmo tempo, Macau foi designada Cidade Criativa da UNESCO em Gastronomia. O Porquinho ficou tão orgulhoso do feito que o que lhe veio à memória foi o doce e estaladiço pastel de nata português, a mistura oriental e ocidental da gastronomia macaense, os bolos de amêndoa confeccionados à mão, entre outros. O Porquinho decidiu regressar a casa para esta época festiva do ano e convidou os seus novos amigos, que conheceu ao longo da sua viagem, para visitar Macau e celebrar o Ano Novo do Porco!
A mãe do Porquinho aguardava em casa pela sua vinda e já havia preparado uma mesa recheada com 18 pratos deliciosos, para cumprimentar o Porquinho e os seus amigos! Estes 18 pratos do Ano Novo Chinês, repletos de significado e criados com toque delicioso e criativo, distribuem mensagens de bênção, votos de felicidade e boa sorte para todos os residentes no Ano do Porco!
第一場花車巡遊及表演
活動日期及時間:二零一九年二月七日,星期四 (正月初三),晚上八時至十時
暖場表演:下午五時三十分開始
開幕儀式地點:西灣湖廣場
開幕式表演:歐陽靖 MC Jin
嘉賓司儀:林盛斌、楊詩敏及古卓文
各定點司儀: 陳庭鋒、程文政及陳如欣
表演嘉賓 (西灣湖廣場):歐陽靖MC Jin、小肥、陳惠敏、古卓文
煙花表演:晚上九時四十五分,澳門旅遊塔對出海面
巡遊路線: 1st Parade with floats and performances
Event Date and Time: Thursday, 7th February 2019 (3rd day of Lunar New Year), 20:00 – 22:00
Warm up Performance: 17:30 onwards
Opening Ceremony Location: Sai Van Lake Square
Opening Ceremony Performance: MC Jin
Celebrity hosts: Bob Lam, Harriet Yeung & Germano Guilherme
Celebrities (Sai Van Lake Square): MC Jin, Siu Fay, Vivian Chan & Germano Guilherme
Fireworks Display: 21:45, Seafront of Macau Tower
Parade Route: 1.ª Parada de carros alegóricos com espectáculos
Data e Horário do evento: Quinta-feira, 7 de Fevereiro de 2019, (3.º dia do Ano Novo Lunar), 20:00 – 22:00
Espectáculo antes da Parada: a iniciar das 17:30
Local da Cerimónia de Abertura: Praça do Lago Sai Van
Espectáculo na Cerimónia de Abertura: MC Jin
Apresentadores convidados: Bob Lam, Harriet Yeung e Germano Guilherme
Apresentadores de 'checkpoint': Stephen Chan, Kevin Cheng e Chan U Ian
Celebridades (Praça do Lago Sai Van): MC Jin, Siu Fay, Vivian Chan e Germano Guilherme
Fogo-de-Artifício: 21:45, na Baía em frente à Torre de Macau
Percurso da Parada:
西灣湖廣場 Sai Van Lake Square Sai Van Lake Square → 孫逸仙大馬路 Av. Dr. Sun Yat Sen Av. Dr. Sun Yat Sen → 澳門科學館 Macao Science Center Macao Science Center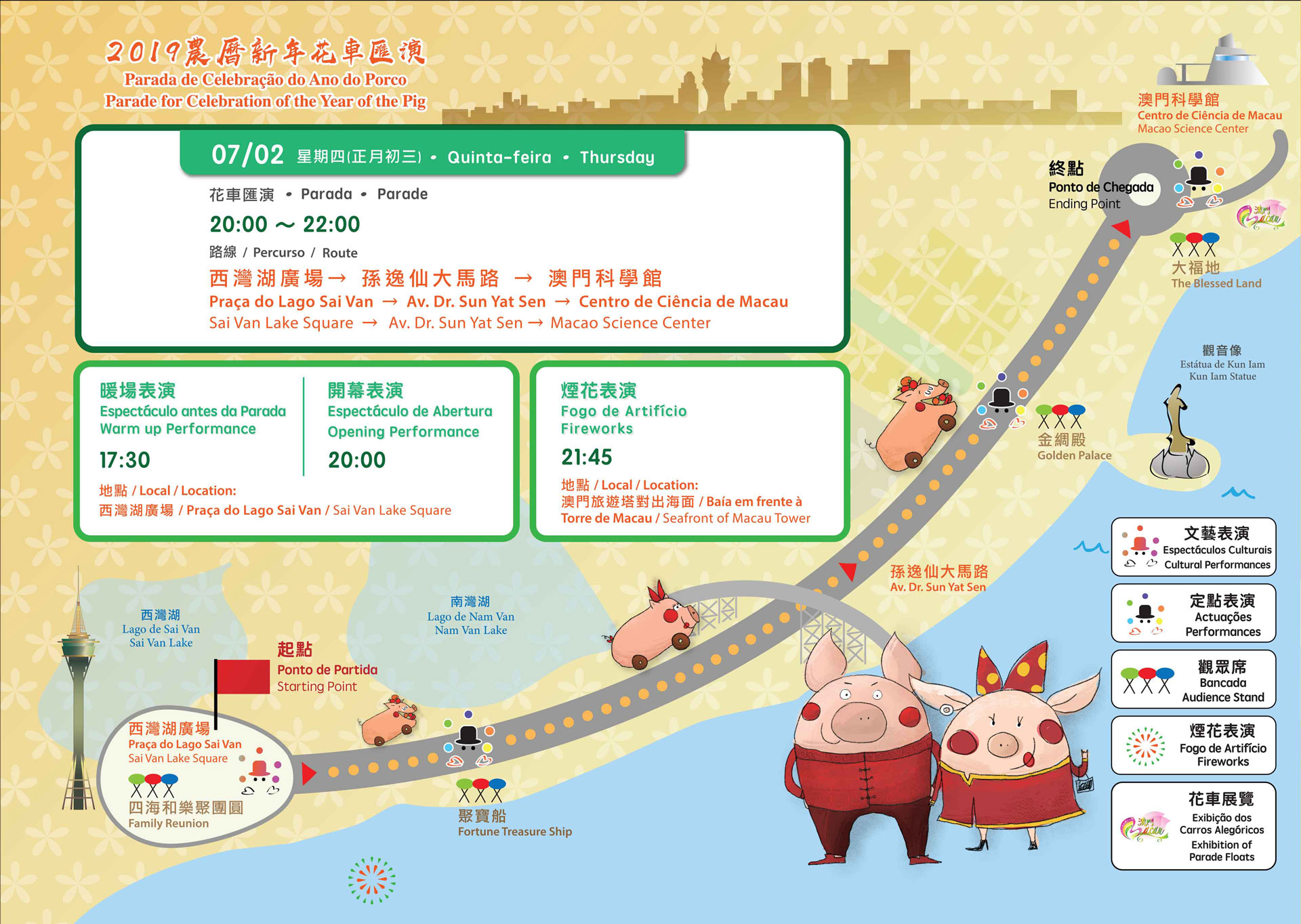 第二場花車巡遊及文藝表演
活動日期及時間:二零一九年二月十日,星期日 (正月初六),晚上八時至九時三十分
起步儀式地點:沙梨頭北街
司儀:古卓文、陳庭鋒、李蔓瑩
文藝表演(祐漢街市公園):晚上八時十五分至九時三十分
司儀:林盛斌
澳門歌手 (祐漢街市公園):龍世傑、周佩英、歐陽日華
表演嘉賓 (祐漢街市公園):曹永廉
巡遊路線: 2nd Parade with floats and cultural performances
Event Date and Time: Sunday, 10th February 2018 (6th day of Lunar New Year), 20:00 – 21:30
Kick off Ceremony location: Rua Norte do Patane
Emcees: Germano Guilherme, Stephen Chan & Renee Li
Cultural Performances (Iao Hon Market Garden): 20:15-21:30
Celebrity Host: Bob Lam
Macao Singers (Iao Hon Market Garden): Rico Long, Priscilla Chao e Kane Ao Ieong
Celebrities (Iao Hon Market Garden): Raymond Cho
Parade Route: 2.ª Parada de carros alegóricos com actuações culturais
Data e Horário do evento: Domingo, 10 de Fevereiro de 2019 (6.º dia do Ano Novo Lunar), 20:00 – 21:30
Local da Cerimónia de Abertura: Rua Norte do Patane
Apresentadores: Germano Guilherme, Stephen Chan e Renee Li
Espectáculos culturais (Jardim do Mercado do Iao Hon): 20:15-21:30
Apresentador: Bob Lam
Cantores de Macau (Jardim do Mercado do Iao Hon): Rico Long, Priscilla Chao e Kane Ao Ieong
Celebridades (Jardim do Mercado do Iao Hon): Raymond Cho
Percurso da Parada:
沙梨頭北街 Rua Norte do Patane Rua Norte do Patane → 青洲大馬路 Av. do Conselheiro Borja Av. do Conselheiro Borja → 拱形馬路 Estrada do Arco Estrada do Arco → 黑沙環馬路 Estrada da Areia Preta Estrada da Areia Preta → 慕拉士大馬路 Av. de Venceslau de Morais Av. de Venceslau de Morais → 黑沙環第四街 Rua Quatro do Bairro da Areia Preta Rua Quatro do Bairro da Areia Preta → 長壽大馬路 Av. da Longevidade Av. da Longevidade → 市場街 Nam Van Lake Nautical Centre Rua do Mercado de Iao Hon → 祐漢街市公園 Nam Van Lake Nautical Centre Iao Hon Market Garden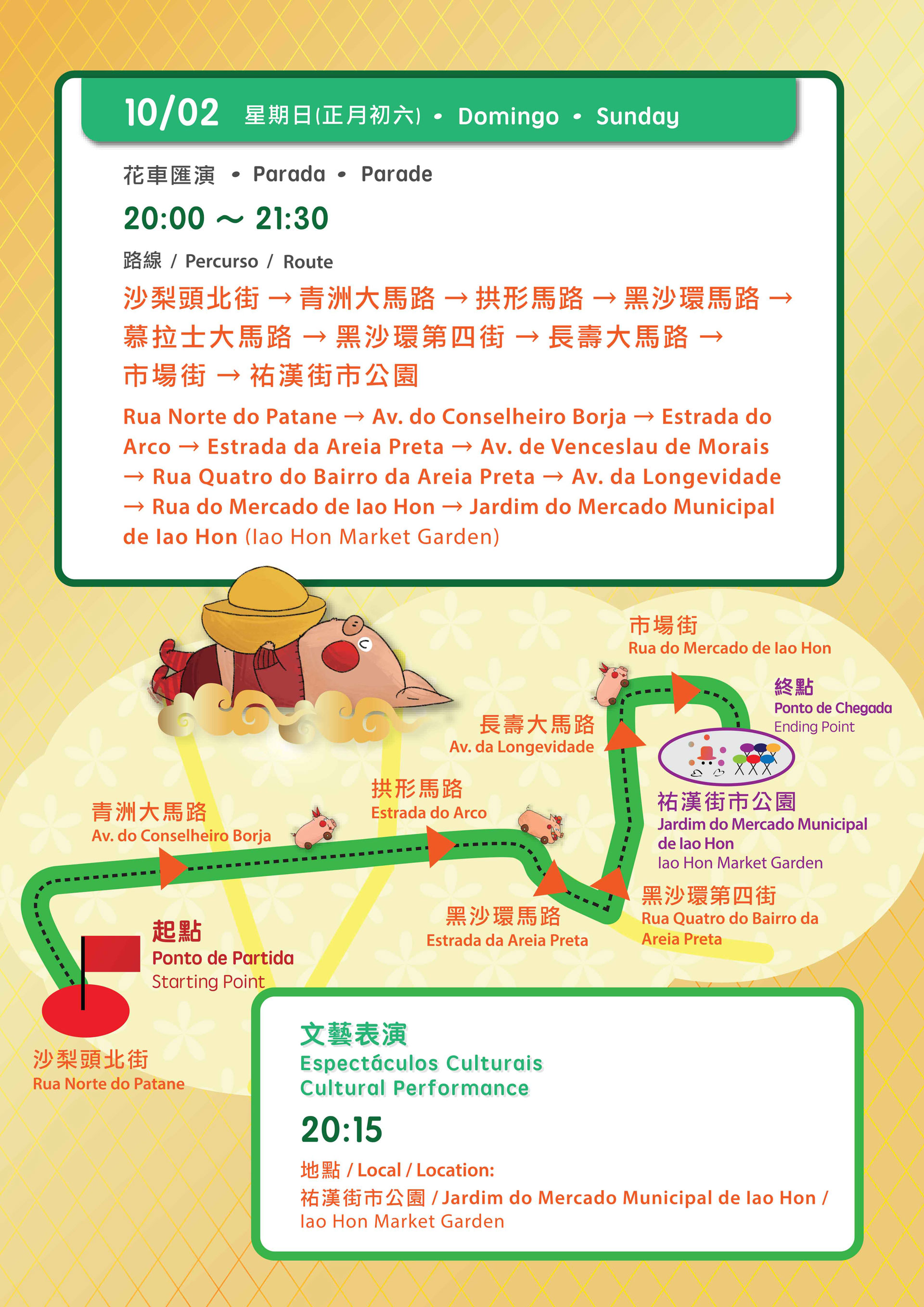 ** 旅遊局保留更改節目的權利,及毋須另行通知。

免費參與
旅遊熱線:(853) 2833 3000
主辦單位:旅遊局
贊助單位:亞洲旅遊交流中心
協辦單位:市政署、文化局、體育局

** Macao Government Tourism Office reserves the right to change the program without prior notice.

Free Admission
Tourism Hotline: (853) 2833 3000
Organizer: Macao Government Tourism Office
Sponsor: Asia Tourism Exchange Center
Co-organizers: Municipal Affairs Bureau, Cultural Affairs Bureau, Sports Bureau

** A Direcção dos Serviços de Turismo reserva-se o direito de alterar o program sem aviso prévio.

Entrada gratuita
Linha Aberta para o Turismo: (853) 2833 3000
Organizador: Direcção dos Serviços de Turismo
Patrocinador: Centro de Intercâmbio de Turismo da Ásia
Coorganizadores: Instituto para os Assuntos Municipais, Instituto Cultural, Instituto do Desporto


Updated on: 04/04/2019